Colours, Figures and Painting
 

The basic color of a FAM WEST period tent is the color of untreated, natural cotton cloth. Not only the tents, but also simple clothing, sacks and bags were historically made out of this mateerial.

 

14th Century decorated tents (picture description)
We also offer tents in coloured 300 gr/m² canvas in the following combinations:
Natural + one color or two colors.
0: natural

1: brick red(15%)

2: bordeaux (15%)

3: red

4: blue

5: yellow

6: turquoise

7: light green

8: dark green

9: black

10: biege

11: orange

12: white

13: brown

15: grey

16: light grey

---
COLOUR - EDITOR for medieval Pavilions
Visit the COLOUR EDITOR page and see for yourself how a tent made up in your club colours or with your coat of arms would look. The programme will also display the finished prices for tents made up from different materials, designs, fabrics and sizes.
---
!!! Unique to Fam West - patterned tent fabrics !!!
You can have the tent you desire with one of our fabric patterns in the color combination of your choice. As many historical illustrations show, patterned fabrics were common and popular in tent building.
The color of your club or your own personal coat of arms can be displayed with style!
This offers you a unique opportunity to give your tent an unmistakeably personal touch.
To design your own color combination click on one of the patterns.
| | | | |
| --- | --- | --- | --- |
| Shield Cross | Lily | Cashmire | Lion |
| | | | |
| | | | |
---
You can also select from one of the four different scallop styles without additional costs.
Note, the scallop style "A" is included as standard.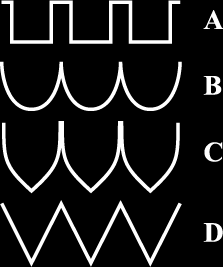 ---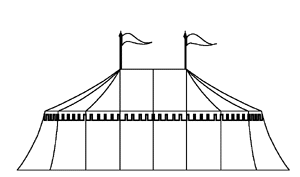 You can download a sample pattern and design your tent using, for example, a paint program (Windows or Mac accessory) and a color function. You can also, for example, outline the battlements in color in order to enhance the visual impact of the tent.
Download here!
Sample pattern as Bitmap (for Win)
Windows Sample pattern as Bitmap (for Mac)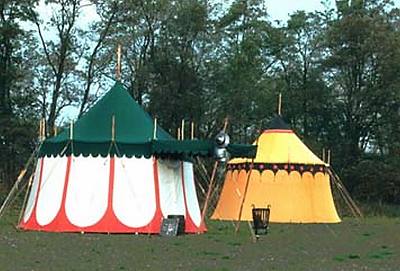 Interesting painting gives your tent a
true courtly authenticity
Examples of colour variations

Bavaria:
The colors of Bavaria

Colorful bird:
By availability of colors

Black & Natural:
Walls black/natural, roof black



Black-red:
Classic?
design with roof and walls in contrasting



Germania:
"Schwarz, rot, gold"

Turquoise & Blue:
 Evenly striped

Burgundy/natural:



 

 

 

                Well? Found something?