You are in area
:
» The World of period & medieval tents
» Period Tents and Medieval Pavilions
» Baldachin
Baldachin
tents with side poles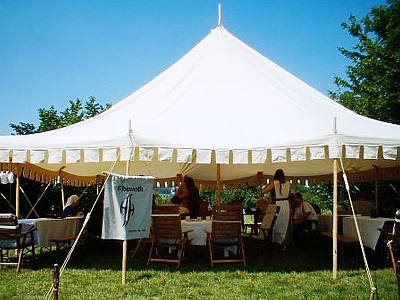 A stylish shelter for display, cooking or feasting. Side walls may also be purchased separately at an additional cost.
A smoke-vent in the top is available, optionally.
Ground Plan: Square 

Sizes available, side poles height x Length x Width x Centre height

200 x 450 x 450 x 390cms
200 x 600 x 600 x 450cms
200 x 800 x 800 x 530cms

 

Materials available

Natural cotton canvas 300 gr/m2
Natural  & coloured cotton canvas 300 gr/m2
Two coloured cotton canvas 300 gr/m2
Natural heavy canvas 360 gr/m2
Mixed weave  420 gr/m2

Price includes
Tent canvas
Centre mast  (separable)
Side poles
large wooden tent-pegs
(steel tent-pegs at an additional cost)
Guy ropes & rope runners
Packing sacks
Photo gallery