Circus & garden tents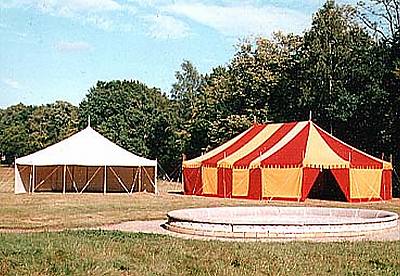 The shape of the FAM WEST circus & garden tents is derived from the traditional circus tent. Since each wall can be removed separately, these tents lend themselves to a variety of uses. As required, a fully or partially open covered space can be created, which can be closed within minutes as night falls or the weather changes. Further, you can add additional extensions or apses round tent. The Chapiteau is an attractive yet economical option as a garden, party or theater tent.
The FAM WEST circus & garden tents are made from pure cotton cloth (waterproofed and treated against mould) - Standard 300 gr/m² or heavy cloth 360gr/m² or mixed weave 420 gr/m². Colored cloth is recomandable in 360 gr/m². See [Materials], [Colors and painting] !
Photo gallery