Native American Tipis
Price from 499,- £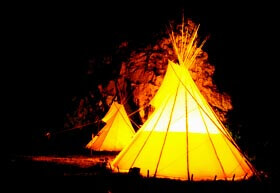 FAM WEST Tipis are based upon the famous Sioux tipi style and are always delivered with an inner lining. On request Cheyenne, Crow, Blackfoot can be supplied.
We offer the following sizes:
ø3m; ø4m; ø5m; ø5,5m;
ø6m; ø7m; ø8m; ø9m
Because a correctly constructed tipi has an oval or egg-shaped ground shape, the length is longer and the width is narrower than the actual circumference of the tent. The circumference is also about the height of the cross-point of the poles.
FAM WEST Tipis are made from pure cotton. The waterproofed and mould-treated cloth is available in three weights: standard 300 gr/m² or heavy cloth 360 gr/m² or mixed weave 420 gr/m². Colored cloth is only available in 300 gr/m².
See Materials, Colors and painting !
TIPI - Price includes:
1 Tipi Tent with sewn-on smoke flaps
1 Tipi Lining (inner tent)
1 Door
1 Cotton Twine (20m)
Hemp Twine
Glass balls (for stone+twine knotting system)
Repair cloth

detailed instructions for tent construction
2 cotton transport sacks
Since many of our customers are ordering a second tipi and already have the necessary wooden accessories, or like to prepare them themselves, we offer the wooden accessories separately.
Handmade wooden accessories, price includes:
Complete set of tipi tent-pegs for each tipi size
Complete set of lining tent-pegs (always 18 pieces)
Complete set of tipi fastening clasps for each tipi size
2 tipi door poles
1 reinforcement pole for the smoke vent ties
1 cotton twine (20m)
2 cotton transport sacks
OZAN
An OZAN is an additional canvas which can be stretched overhead on the inside of the tipi to providing a drip-free area. An Ozan is available as an extra accessory for each tipi size.
Table of Information
TIPI

Tipi




poles

Tipi




tent-pegs

Fastening




clasps

Lining




tent-pegs

Sleeping




places

Sitting




places

3m
11
13
7
18
2
5
4m
11
17
7
18
3
10
5m
14
22
10
18
4
20
5,5m
14
24
11
18
4-5
25
6m
17
26
13
18
5
30
7m
17
32
18
18
6
40
8m
20
38
21
18
8
55
9m
20
40
26
18
10
85
Photo gallery